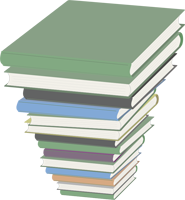 An Opportunity for Young Authors
Each year Chatham County Schools offers students an opportunity to let literary talents shine!
For 28 years, the Chatham County Schools Young Authors Program has provided an opportunity for students to share original stories at the school level through the library media center. A limited number of entries from each school are also accepted for sharing at the district level.
The Young Authors program is open to all K-8 students.
To participate in the Young Authors program at Silk Hope School, students are invited to write an original story of any length, including chapter books, or novels.
Original illustrations are invited, but are not required. Other images should not be included, due to copyright limitations.
Helpful templates are available on the SHS Library Media web page. Original illustrations can be in any medium, and can be submitted separately for scanning to the finished work.
All entries will be shared in our library, but in order to be considered for district-wide sharing, entries should to be submitted in final form to the Silk Hope School Library Media Center by January 5, 2016.